Region
Voerstreek
The rural character of the Voer region contrasts sharply with the surrounding urban area. As a visitor to the region, this offers many advantages; you will be in the center of a large historic city such as Maastricht, Aachen or Liège in no time. There is also a wide variety of sights and activities outside these cities. Impossible to name them all. We'll give you some tips!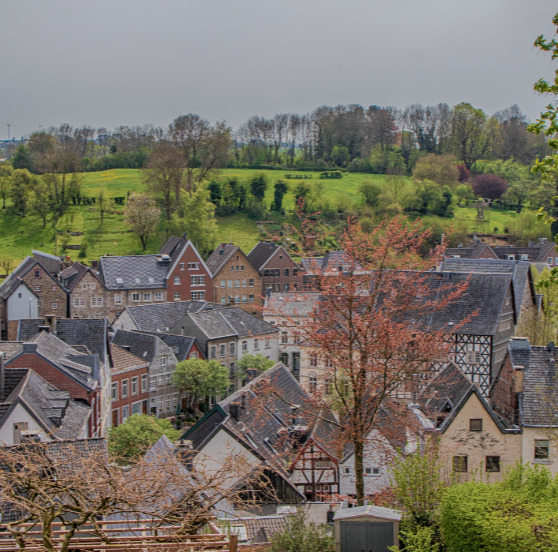 The region of the Voer region
The region of the Voer region
The region of the Voer region
Regional
The city Liege
Liège is also known as the fiery city. The center is crossed by the river Maas. Here you will discover a rich cultural life, numerous restaurants, cafes and a fantastic architectural heritage. A bustling city where jovial, party-hungry residents keep the folklore alive.
Dienst Toerisme
Féronstrée 92
4000 Luik
Regional
Dalhem
At the time, this town was the fortified capital of the county of Dalhem. The historic upper town still has many old buildings, a former castle site with a keep and parts of the ramparts.
Office du Tourisme Dalhem
Rue Général Thijs
4607 Dalhem
Regional
Val-Dieu
The abbey, a Cistercian monastery, was founded in 1216. The gatehouse, enclosed courtyard and abbey church are always freely accessible. Visits to the monastery or the brewery are always by reservation.
Office du Tourisme d'Aubel
Place Nicolaï 1
4880 Aubel
Regional
Vaals
This is the highest point in the Netherlands. At the Drielandenpunt you have a breathtaking view of Belgium, the Netherlands and Germany. But there's more: the morning market on Tuesday, an artisanal glassworks, outdoor go-kart track, castles, museums...
Servicepunt Vaals
Maastrichterlaan 78
6291 ET Vaals (NL)
Regional
Eijsden
Just across the border with the Netherlands you will find this picturesque village; its core is a protected village view and many buildings were also protected. You can enjoy a breath of fresh air along the natural banks of the Meuse, walkers and cyclists can (again) cross the border with the ferry called 'De Cramignon' or you can enjoy Mediterranean food at the small but beautiful marina Portofino, located in the Eijsder nature reserve meadows.
Dienst Toerisme
Breusterstraat 27
6245 EH Eijsden (NL)
Regional
Museum Het Ursulinenconvent
Discover everything about family history, family tree research, family culture and traditions. The museum houses a number of special collections including tribal African art and a pharmacy from the 19th century. The Breuster Brouwers brew craft beer in the basement. VVV service point Eijsden with Museum shop is also located in the building.
Museum Het Ursulinenconvent
Breusterstraat 27
6245 EH Eijsden (NL)
The region of the Voer region